Financial Tearsheet
Cronos Group is an innovative global cannabinoid company with international production and distribution networks across five continents. The Company is committed to building disruptive intellectual property and establishing an iconic brand portfolio.
Stock Chart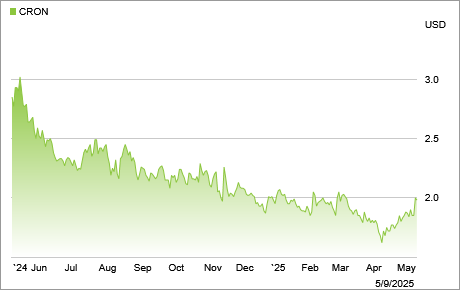 Stock Quote
Change
Volume
52 Week High
52 Week Low
Copyright West LLC. Minimum 15 minutes delayed.
News Releases
05 Sep 19
Cronos Group Inc. Closes Redwood Holding Group Acquisition
26 Aug 19
Cronos Group Inc. CEO, Mike Gorenstein, to Present at Barclays 2019 Global Consumer Staples Conference
23 Aug 19
Cronos Group Inc. Enters into Credit Agreement with Cronos Growing Company Inc.
SEC Filings
| Filing date | Description |
| --- | --- |
| | Report of foreign issuer rules 13a-16 and 15d-16 of the Securities Exchange Act |
| | Report of foreign issuer rules 13a-16 and 15d-16 of the Securities Exchange Act |
| | Report of foreign issuer rules 13a-16 and 15d-16 of the Securities Exchange Act |
Events
12 June 2019 at 1:15 PM EDT
Stifel 2019 Cross Sector Insight Conference
07 June 2019 at 11:30 AM EDT
Jefferies 2019 Healthcare Conference
06 June 2019 at 1:30 PM EDT
Piper Jaffray 39th Annual Consumer Marketplace Conference